Kvapka is one wonderful, eye catching and delightful place. We have been swimming with Adam since he was four months old and even though we had to miss the a few lessons of the course, we felt and we still feel at home. Adam enjoys swimming very much, he can see his progress as he tries to apply exercises and activities at home in the bathtub. Of course only partially, we do not have a swimming pool in the bathroom :) You have created a positive relationship to the water in him and he is not afraid of it anymore. Quite the contrary, he enjoys it very much, and all swimming associations create a smile on his face. And for that, my husband and I are very grateful. Our instructor Zuzka is always smiling, accommodating, patient and attentive to each of us. Our children like it very much and it makes swimming fun for them. Photography and diplomas are a nice gift and a memory that beautifully stands out in the frame on the shelf or "shines" on the refrigerator. After all, every mother is proud of her swimmer or little mermaid. Dear KVAPKA, thank you for what you do and how you do it. We wish many, many successes, happy parents and many happy little swimmers.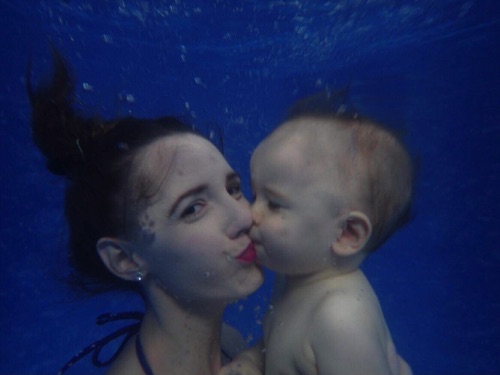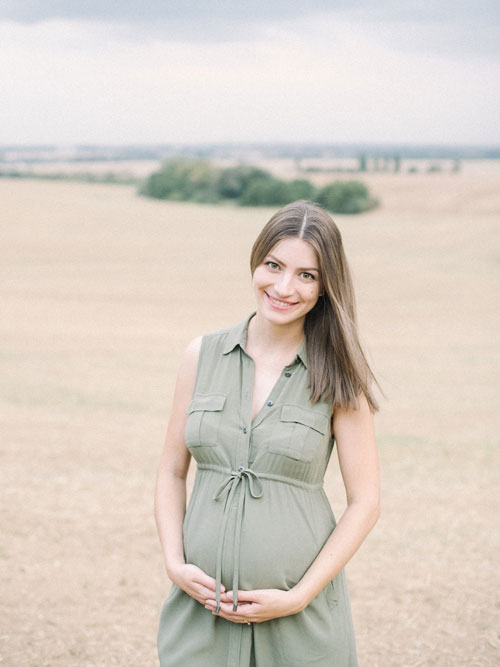 As an expecting mother, I took aquaprenatal lessons in Klub Kvapka, which were both pleasant and relaxing for me. I also attended lectures for future mothers, which gave me answers to questions that I did not want to search in the "sea of information truth or false" on the Internet. I got a new perspective on childbirth and thanks to it I could give my son a beautiful and trouble-free start to life.
All three of our girls attend lessons in Kvapka. We are very satisfied. We like the fact that it is not a "squirming" of children in the water, but a thoughtful concept of bringing children from the youngest age to the right habits, good swimming and the joy of moving in the water. After each course, we see the results and we are especially pleased that the children are happy about their success and always enjoy the Drop. 5-year-old Ester is already able to swim the whole length of a pool, 3-year-old Miriam jumps into the water like a seal and the smallest 8-month-old Johanka is just starting to enjoy her first dives. We also appreciate the professional and kind attitude of all instructors who always strive to accommodate and can show the children the joy of learning and movement. We hope for the future that Kvapka will continue to maintain a high standard in swimming teaching in Trnava. The town and its surroundings would be very beneficial if Kvapka once had its own large pool for older children.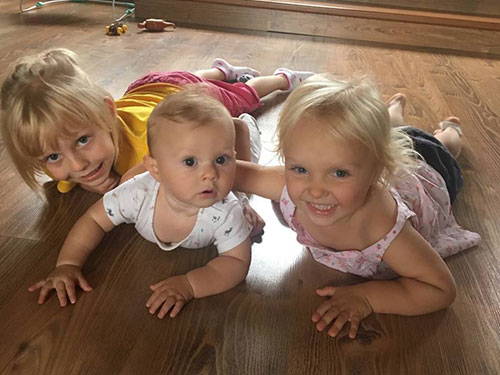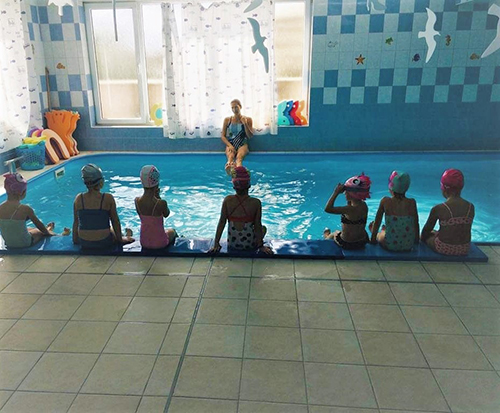 We have been cooperating with Kvapka Club since the beginning of our private kindergarten which is already 7 years. Due to the excellent cooperation and professionalism of the lecturers, we can only recommend Kvapka Club. We also positively evaluate the hygiene of the premises and the water itself. Kvapka instructors can easily handle groups of children, from our smallest of children to our preschoolers. The non-violent removal of barriers or fear of water, which children often have, contributes to the professionalism of lecturers. By the end of the pre-swimming training, our children already manage to swim independently and enjoy staying in the water.
I chose Kvapka as soon as I found out that we were expecting a baby. I was really looking forward to the pre-natal preparation and also for swimming of pregnant women. I could not swim at that time because of the state of my health. All the more I could not wait to start swimming with my little one. We started when she was 5 months old, because we were waiting for a little younger friend 😊 Our Dominika is born prematurely, so we passed neurological examinations and we did not miss the exercise "Vojtovka". But that ended in about half a year because I couldn't keep her head on the mat since she had so much strength. We did not exercise in the end, but we went swimming and it was all by itself. Neurologist and physiotherapist did not want to believe me when I told them that we were not exercising and that it was just swimming. After 3 months in Kvapka, the neurological health office has eliminated us and we are only supposed to go on annual checkups 😊 Whenever possible and my husband is free to walk together and he is with her in the water. For our family Kvapka we highly recommend and we have only positive experience. Thank you very much 😊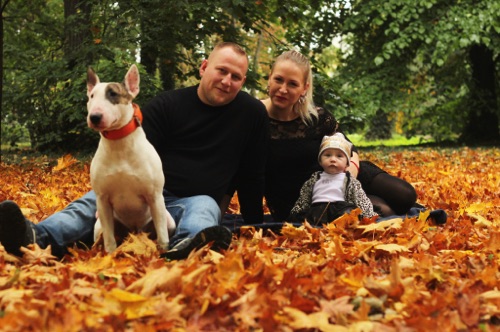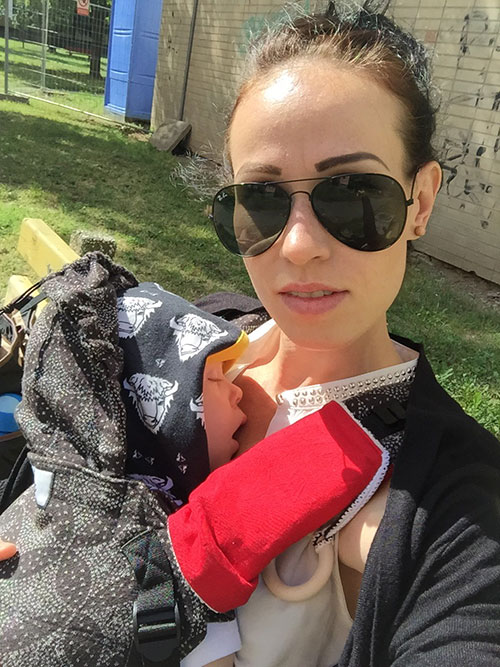 I've known this club since I was pregnant. I think that this is the only one in Trnava that offers swimming for pregnant women (they do not use public swimming pools, chlorinated water furthermore we do not have to worry for our extra kilos). During that beautiful period I had the opportunity to meet all the nice people, see a great team and get to know a great person Gabika Janovičová in her amazing lectures. We, as people who appreciate swimming, knew right away that we wanted to try to swim with our son as soon as possible. We tried it in his 5 months and we are excited that he loves water as much as we do. We are already taking 8 courses and Oliver has made an incredible progress over that period. The club itself offers exercises for children, which we started to attend recently. Since we started to workout, Oliver can make somersaults forward ... Plus for me as a mother on parental leave, there is room for getting to know other mothers and their children and have the possibility of socialising. I like that the team Kvapky is still educating, inventing various activities for children (eg masquerade ball ...), renewing swimming aids or improving their premises, last but not least, they are willing to come out to us and our children all the time. Kvapka has won our trust ♥.